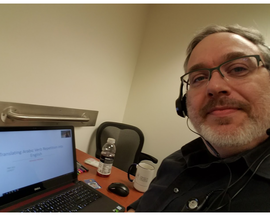 Tim Gregory (MA, Translation and Interpreting, 2018) grateful for online degree as he continues to work in the field. 
Watch his recent interview with Intralingo Inc. on his translation of the book Warriors and Warlocks: Outcast
Following the attack in New York's World Trade Center on Sept, 11, 2001, Tim Gregory of Seattle, Wash., searched on Monster.com and used Google to find a linguist position as a contractor. A two-week temporary task turned into an offer for a two-year contract, which morphed again into an offer to work for the National Virtual Translation Center (nvtc.gov).
Eventually he worked into his current position in the Seattle area as a full-time in-house translator for the US government. While continuing in his job, Gregory applied for admission to the MA program in translation and interpreting at Illinois and was accepted. Better yet, his employer paid for the program, but with the catch that Gregory had to continue working 40 hours (or more) a week at an office that requires three or more hours of commuting each day.
But that's exactly where the advantages of an online degree program arose. "My supervisor was very flexible when it came to classes that I attended 'live' online," he said. "The benefit is absolutely clear: if the program wasn't online, I couldn't have attended."
Gregory, who graduated in May 2018 with an MA in translation and interpreting, points out he isn't a typical student. "I was 47 when I graduated; I'm married and have two children, a home, mortgage, and all of the obligations that go along with them.
"I couldn't ask my family to move for two years, and I couldn't have taken a leave of absence from my job. This program was a perfect fit for me."
Gregory was raised in Seattle in what he called "a typical monolingual family." He studied Spanish in high school, but said he never really considered learning beyond the basics.
After graduating from high school he joined the Marine Corps. "It was the Marines who chose to teach me Arabic, sending me to the Defense Language Institute. As the years passed, I took classes here and there and read textbooks on translation when I thought of it, but I was good enough for professional work."
However, it wasn't until 2001 that he decided to try his hand as a freelance translator, "but before I did much more than get a business license, 9/11 happened. Along with many others, I looked for a way to get back to intelligence work and help." He added, "Once things found a level we could call normal, I took the American Translators Association certification exam—passing it on my third try—and then went to school part-time to get my BA in Middle Eastern Studies."
Regarding his course of study at Illinois, Gregory commented, "The greatest benefit each of the professors provided was the space to explore and learn. When you have an in-house translation job a lot of the focus is on speed, with quality coming in second place."
By contrast, at Illinois the program gave him the opportunity to, "in the company of expert mentorship and advice, to explore aspects of the translation task that I hadn't focused on before.
"My writing has improved, as has my attention to detail, and I'm grateful to have had this opportunity."